Style:

Milk Stout

ABV:

7.70%

Season:

Winter/Rotating

Ease to locate:

Chicagoland area grocery & liquor stores (I bought mine at Jewel) Also distributes to Ohio. Here's their

beer finder
Color:

Dark brown cola color with bits of orange light at the edges

Head:

One finger with bits of lacing

Aroma:

Milk chocolate predominant with sweet caramel malts and coffee notes

Mouthfeel:

Medium (but I did wish that it was a bit creamier)

Finish:

Short and tasted of burnt chocolate

Food friendly:

Friendlier than most milk stouts. Try roasted meats with a bit of spice or hearty stews
There's a poplar myth about the great Chicago Fire of 1871 involving a shoddy wooden barn, a poorly thought out lantern and a place-kicking cow. The story is that on October 8, 1871, a (falsely accused) bovine belonging to Katie O'Leary kicked over a troublesome lantern and began a fire that would become known as one of the worst disasters to occur in the city of Chicago (the second worst also took place in October, only in the year 2003, during the 6th game of the National League Championships between the Chicago Cubs and the Florida Marlins. The name Steve Bartman still may only be whispered conspiratorially in certain areas of Wrigley Field.). The reality is that a newspaper reporter for the Chicago Republican later admitted to making up the whole story. Apparently insanely destructive pyromaniac farm animals were the "Is Jennifer Aniston Pregnant With Alien Twins???" headlines of the 1870s. That poor cow has taken the brunt of the fire's responsibility for over a hundred years now. Personally, I'd be pretty put out by the whole situation if it were me.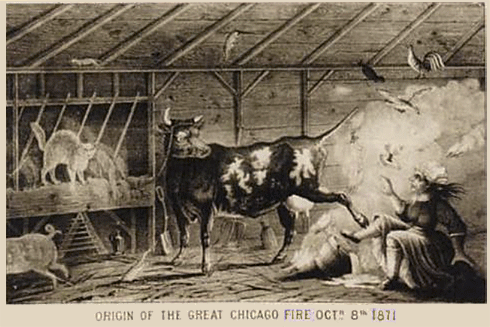 Revolution Brewing Co. must also sympathizes with the poor animal. After all, they named their milk stout Mad Cow, not Ticked Off Rooster or Mildly Irritated Groundhog (although, I think both of those would make awesome band names. Feel free to use them if you should one day find yourself stuck in a garage with a few unemployed guys, a case of beer and a base guitar.) Milk Stouts and Sweet Stouts are variations of a basic stout recipe. They are brewed to retain a certain amount of unfermented sugar in the beer, giving the drink a sweeter profile than a regular old stout. A Milk Stout uses lactose sugar to sweeten the beer and to give it extra body (and extra calories too, FYI if you happen to care about your girlish figure.) In fact, at one point, milk stouts were thought to be extremely nutritious and were given to nursing mothers to supplement their diet. My, how times have changed. Now mothers are only encouraged to consume copious amount of alcohol after the kids have gotten old enough to feed themselves.
Notice how the light brings out the orange around the edges
Mad Cow Milk Stout pours a dark brown cola color. A one finger ivory head rose from the liquid. Solitary bits of lacing clung to the sides of the glass. I was expecting a bit more from a milk stout, but I suppose that lacing neither makes nor breaks a beer. When held to the light, I could see the edgings of orange brightness in the liquid. I always love it when a beer has a more complex color scheme than I first thought. I could smell the milk chocolate aroma right away (the glass didn't even need to get too close to my nose to pick it out.) There was also the scents of sweet caramel and slightly over roasted malts. A bit of dark coffee was present too. This bitterness of the roasted malts and the dark coffee helped to keep the chocolate aroma in check. I was doubly happy about this when I took a taste. The milk chocolate sweetness hit me first and hit me hard. What I liked most about this is that it was a true chocolate taste, not artificial like some other milk stouts I've sampled. It was followed by a mild coffee flavor which was more like a cappuccino than an actual cup of joe. The sweetness of the malts and the bitterness of the hops emerged on the back.
View from above. Not exactly inspiring
I had expected more creaminess from the beer. Milk Stouts are known for their cream-like qualities (in certain circles they are actually called Cream Stouts.) Mad Cow had a medium mouthfeel, much like I would expect from a regular stout or porter. Whatever lushness there was though, was tainted for me by the short finish that tasted mildly of burnt coffee grounds. It wasn't unpleasant enough to ruin the drink for me, but, again, it was completely unexpected. I can't help but wonder if Revolution was using this bitter over cooked coffee flavor to try to balance the chocolate sweetness on the front, but just had it's timing off? I would like to let this milk stout age a bit as well to see if time would mellow this burnt note just a little.
Because this beer is lighter in sweetness and mouthfeel than a typical milk stout, I believe that it should be easier to pair with food than say New Holland's Dragons Milk or Left Hand's Nitro. Since you don't need to deal with a overly rich flavor profile or extremely creamy mouthfeel, you can use the sweet and bitter notes to counteract the flavors in your particular dish. Try it with roasted meats that might have a bit of kick to them, but still echo a similar flavor profile and weight, such as a
Texas style brisket rub
made with coffee & cayenne pepper. Or maybe try it with a darker stew, such as
beef stew with Cuban coffee gravy
. Mad Cow is not my favorite milk stout out there. With a little tweaking, it certainly could become one of my top five, however. I'm intrigued enough to want to give the
bourbon barreled aged
version of it a go around (yes, I know, I had you at bourbon aged). I'm hoping that with a bit of therapy (again, by this I mean bourbon) and a little distance (this is where the barrel comes into play), this mad cow could become a very, very happy Chicago legacy.
Power to the cow!